Kitchen Remodeling Services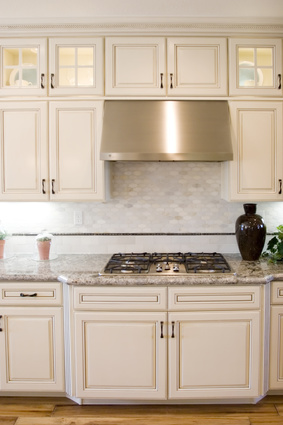 A Clearwater kitchen remodeling is an opportunity to take an outdated home and transform it into a highly functional, attractive, and modern entity. As a homeowner you know the importance of keeping your home maintained through daily cleaning and renovations. Doing this creates a welcoming atmosphere for your guests but most importantly for you every time you walk through your front door. As you imagine your daily routine, you probably see yourself in your kitchen a great deal: for coffee and breakfast in the morning, packing lunches, preparing and eating dinner and the occasional snacks and desserts.
Your kitchen is more than a functioning room in your house with the purpose of preparing meals. It is also a room for entertaining. When you have guests over you probably often find yourself gathered in this room eating snacks, preparing food, having drinks, and talking. This may not be the case though if your kitchen is outdated. If you have tile counters with moldy grout, a rusty sink, nicked cabinets, or old poorly functioning appliances, your guests may not be inclined to socialize in this room of your house. A professional Clearwater kitchen remodeling service will help create a space everyone will love to spend time in. With an updated room, you will be proud to invite family and friends over for cocktails and dinner parties.
For a beautiful new Clearwater kitchen, call
Americraft Building Technologies today at (727) 953-0802.
As a homeowner in Safety Harbor, Palm Harbor, Largo, St Petersburg, Clearwater or Tarpon Springs you probably have a strong connection with your house. You spent a lot of time with realtors shopping around until you found one that fits, one that meets your criteria and your budget. You spend most of your time in this place. Maybe this is your first home, or where you raised your family. You build memories in the places that you live in and you want those memories to be fond ones. A Clearwater kitchen remodeling can create a space you love to be in. Whether you simply need one element changed, such as new cabinets, or you want to completely revamp and restyle everything from the floors to the walls, from the cabinets to the appliances, at Americraft Building Technologies we do it all and we do it all with exceptional craftsmanship and quality customer service.
Do you ever visit the home of a friend or family member and admire their stainless steal appliances and granite countertops? Do you ever wish to obtain the sleek new look of an updated kitchen like the ones in magazines and on home décor shows? You may be afraid that a Clearwater kitchen remodeling is out of your budget but with Americraft it is more attainable than you may think. We work with your budget while still offering a beautifully new and improved room.
Is your Clearwater kitchen in need of remodeling?
Call Americraft Building Technologies at (727) 953-0802.
New appliances will save you money on your electricity and heating bills. Another important thing to remember is the value you will be adding to your home. By investing in a Clearwater kitchen remodeling you will be increasing your home's worth. Any improvement you make upon your home increases its resale value, which is more money in your pocket in the long run.
At Americraft we offer more than Clearwater kitchen remodeling. We also offer bathroom remodeling, wood and tile flooring, home renovations, residential painting, room additions, garage conversions, and more. While we are located in Safety Harbor we also service the areas of Clearwater, Palm Harbor, Largo, St Petersburg and Tarpon Springs. We are proud of our New England craftsmanship with a southern flare! Call us today at (727) 953-8082 for more information on how we can improve upon your home's value, appearance, and functionality.